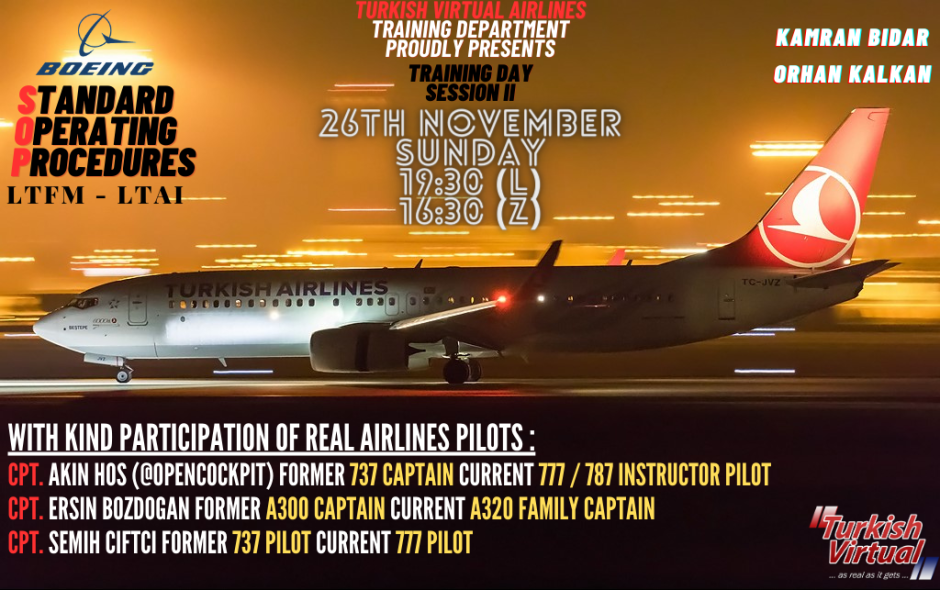 Konu: Özel Havacılık Etkinliği - Eşsiz Bir Deneyim İçin Bize Katılın!
Sevgili pilotlar,
Tüm havacılık tutkunları için hayatta belki bir kez karşılaşabilecekleri bir fırsatı duyurmaktan heyecan duyuyoruz! Özel bir etkinlik planlanlıyor ve bunun için sizi unutulmaz bir deneyim yaşamanız bize katılmaya davet ediyoruz.
Etkinlikte Öne Çıkanlar:
Gerçek Havayolu Pilotları. Bu etkinliğe üç deneyimli ve başarılı havayolu pilotu katılacak ve görüşlerini , deneyimlerini ve bilgilerini tüm katılımcılarla paylaşacak.
Eğitim oturumu:
Havacılık anlayışınızı genişletmeye hazır olun! Sanal havacılıkta bilgi ve becerilerinizi geliştirmek için size eşsiz bir şans sunan özel eğitim sağlanacaktır.
Etkinlik detayları:
Tarih: 26 Kasım Pazar
Saat: 19:30 (Yerel Saat) - 16:30 (UTC)
Yer: Turkish Virtual/Discord Platformu
Seçkin Konuk Pilotlar:
Havacılık endüstrisine önemli katkılarda bulunan üç saygıdeğer havayolu kaptanını tanıtmaktan büyük gurur duyuyoruz:
Kaptan Akın Hoş (@opencockpit) Eski 737 Kaptanı, Şimdiki 777/787 Eğitmen Pilotu
Kaptan Ersin Bozdoğan - Eski A300 ve Şimdiki A320 Aile Kaptanı)
Kaptan Semih Çiftçi - Eski 737 ve Şimdiki 777 Pilotu)
Odak Konusu: Boeing Uçak Operasyonları
Gündem:
Boeing Uçağına Giriş
Örnek Uçuş Standardı Prosedürünün Derinlemesine Analizi
Yapılandırılmış Soru-Cevap Oturumu
Oturumda, özellikle Boeing uçakları vurgulanarak, başlangıçtan bitişe kadar örnek bir uçuş standardı prosedürü titizlikle incelenecek. Kaptanlar kapsamlı bilgi ve görüşlerini paylaşacaklar
Neden Katılmalısınız?
Gökyüzünde gezinen gerçek havayolu pilotlarından değerli bilgiler edinin
Havacılık anlayışınızı geliştirmek için uygulamalı bir eğitim oturumuna katılın
Havacılık meraklıları ve profesyonellerle ağ kurun
Uçuş dünyasında sürükleyici bir deneyimin tadını çıkarın
Nasıl katilinir:
Bu özel etkinlikte yerinizi garantilemek için:
Discord'u buradan ücretsiz olarak indirebilirsiniz:
https://discordapp.com/
Turkish Virtual Airlines Discord kanalına buradan katılabilirsiniz:
https://discord.com/invite/pp7y2qh7vU
Discord sorularınızla ilgili olarak bizimle iletişime geçebilirsiniz:
https://turkishvirtual.com/procedures.asp?page=1
Tecrübeli pilotlarla bağlantı kurmak, havacılık bilginizi geliştirmek ve uçuş tutkusu olan bir topluluğa katılmak için bu inanılmaz fırsatı kaçırmayın! Etkinliğimiz Turkish Virtual üyesi olsun
olmasın herkese açık olacaktır. Misafirlerimizin Discord kanalımızda belirtilen eğitim odası için yetki almaları gerekmektedir; Misafir olarak giriş yapın ve Unicom kanalı üzerinden eğitim toplantısına katılmak istediğinizi belirtin, yöneticilerimiz size gerekli yetkiyi verecektir.
Turkish Virtual Üyeleri Discord kanalına PİD ve şifrelerini kullanarak katılabilirler.
Bu daveti dikkate aldığınız için teşekkür ederiz. Sizi sanal gökyüzünde ağırlamak için sabırsızlanıyoruz.
Saygılarımızla,
Sn Kamran BİDAR
Sn Orhan KALKAN
Subject: Private Aviation Event - Join Us for an Unforgettable Experience!
Dear pilots,
We are excited to announce an opportunity that aviation enthusiasts may encounter once in a lifetime! A special event is planned, and we invite you to join us for an unforgettable experience.
Highlights of the Event:
Real Airline Pilots: Three experienced and successful airline pilots will participate in this event, sharing their insights, experiences, and knowledge with all participants.
Training Session:
Get ready to broaden your aviation understanding! A special training session will be provided to enhance your knowledge and skills in virtual aviation.
Event Details:
Date: November 26, Sunday
Time: 19:30 (Local Time) - 16:30 (UTC)
Location: Turkey Virtual/Discord Platform
Distinguished Guest Pilots:
We are proud to introduce three esteemed airline captains who have made significant contributions to the aviation industry:
Captain Akın Hoş (@opencockpit) - Former 737 Captain, Current 777/787 Training Pilot
Captain Ersin Bozdoğan - Former A300 and Current A320 Family Captain
Captain Semih Çiftçi - Former 737 and Current 777 Pilot
Focus Topic: Boeing Aircraft Operations
Agenda:
Introduction to Boeing Aircraft
In-Depth Analysis of Sample Flight Standard Procedure
Structured Q&A Session
During the session, with a particular emphasis on Boeing aircraft, a sample flight standard procedure will be meticulously examined from start to finish. The captains will share comprehensive information and insights.
Why Should You Join?
Gain valuable insights from real airline pilots flying in the sky
Participate in a hands-on training session to enhance your aviation understanding
Network with aviation enthusiasts and professionals
Enjoy an immersive experience in the world of flight
How to Join:
To secure your spot in this special event:
Download Discord for free here:
https://discordapp.com/
Join the Turkish Virtual Airlines Discord channel here:
https://discord.com/invite/pp7y2qh7vU
Contact us for Discord-related questions here:
https://turkishvirtual.com/procedures.asp?page=1
Don't miss this incredible opportunity to connect with experienced pilots, improve your aviation knowledge, and join a community passionate about flight! The event is open to everyone, whether or not they are Turkish Virtual members. Guests need to obtain authorization for the training room specified in our Discord channel; enter as a guest and express your interest in joining the training meeting via the Unicom channel, and our administrators will grant you the necessary authorization.
Turkish Virtual members can join the Discord channel using their PID and password.
Thank you for considering this invitation. We look forward to welcoming you to the virtual skies.
Best regards,
Mr. Kamran BİDAR
Mr. Orhan KALKAN